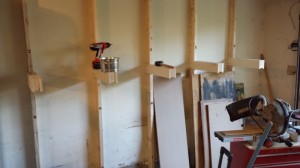 One of the big areas my shop has lacked is good lumber storage.   Most of the time when I buy wood, I buy just enough to accomplish the project, with maybe an extra board or two just to have on hand for when I need to remake a piece I screwed.  (That never happens right?!?)  In away this has been a benefit in my overall growth as a woodworker as it has forced me to try to recover from mistakes without making new parts.  Hopefully this will always be the mindset I work on at this point.  The drawback of buying wood this way is it is more expensive.  My local wood supplier often has good deals on wood, but in most cases to take advantage of the deal you have to buy 100 board feet as minimum.  I simply did not have the space for that much wood.  The small space I had stored my wood, only allowed for about 20-25 board feet, and was vertical storage.  While vertical storage isn't necessarily a bad thing, for my situation, it was just propped up against the wall, and was prone to falling over.  Also, it was often in my way when trying to get to the my dust collector.  It was time to make some changes to the garage and build a lumber rack.
The first challenge I had, was where do I put it?  All my walls were full with either peg board or other items hanging on it.  And when I say peg board, it was full 8'x4′ sheets of peg board.  However, one sheet was over where we keep our trash cans, and some other storage, and as I was looking at it, I realized everything that was on it could either be put someplace else, or go in the trash.    This meant  I could free up a section of wall that was 8′.  PERFECT!  So I cleared out that area, and I pulled down the pegboard.  There were some other hooks and hangers on the wall that I also took down that freed up even more space.  After I got it all cleared out, I made some minor repairs to the wall, and I was ready to go.
The construction really was pretty simple.   The design of the rack I took notes from various racks out on the Internet as well as studied the design from TheWoodWhisperer.com and came up with one for what I need.  The bones of the rack were constructed from construction grade 2x4s, and I used some inexpensive plywood from Menards.  Each bracket of the rack is a laminated 2×4 with an oversized plywood on either side.  These were constructed with glue and nails.   I decided to go with 3 rows of brackets.  Since the wall studs were 24″ on center, I needed to make 5 columns, so this would need 15 total brackets.  Once the brackets were complete, I could work on the vertical supports.  I drill counter bored holes for the lag bolts.  I then put up each vertical support so that it was supported on the garage floor, and the lagged bolted them into the wall studs.  I then used my laser level to mark out each row, and screwed in place each bracket.  Each bracket has 8 screws that go through the entire width, so it will be good solid.
The top row I discovered is actually above the track for the garage door.  I decided that this is fine, as I am not going to put a lot of weight up there, and use it mainly for storage for long items that I need out-of-the-way.  The bottom tow rows will be dedicated to lumber.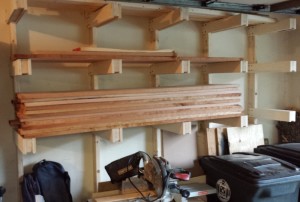 The only thing missing at that point was the wood!  My favorite go to hardwood supplier is Muterspaw Lumber, located in Xenia Ohio.  Check out his website at CRLumber.com as he also ships lumber all around the country.  The owner, Chad Muterspaw, had been running a special on cherry for a while that I had wanted to take advantage of, and I now have the room to store it.   That 100 board feet of cherry fit very well on the first row of my lumber rack, so I have plenty of room for future wood purchases!