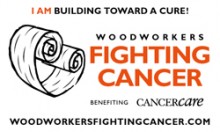 I have been a little lax on blog posts lately, but I assure you it has been for good reason.  The last couple weeks I have spent my spare time working on an Easel that is this year's Woodworker's Fighting Cancer charity build, put on by Marc Spagnoulo of The Wood Whisperer.  Cancer has had a significant impact on my family, so being able to build a project that will benefit those who have cancer, combined with the fact that I sent a nice Christmas gift my nephew is definitely a winner.  Just by building this project and submitting a photo of it, Marc, Steve Ramsey of Woodworking for Mere Mortals, and several other corporations will donate $5 a piece to CancerCare, and will for anyone else who builds an Easel.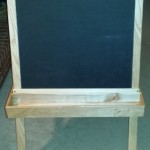 I had to work somewhat quick to get this done, hence the reason for the lack of a blog post for the past couple weeks.  My nephew lives 8 hours away from there, and my dad is spending the winter with my sister and her family, which he left just before Thanksgiving.  So, to get it down to them in time, I had to get the easel completely finished before he left so I could get it down to them.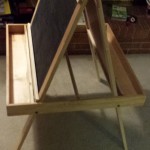 For the most part, I followed the plans fairly close that were provided from Wood magazine for the build.  As Marc showed in his video, I used pre-made panels for the chalkboard and whiteboard rather than paint melamine with the respective paints to get that surface.  I also made it so that tools were not required to put the easel together and take it apart.  I put pegs in the frames with cutouts on the tray that fit into the pegs.   This worked out well with the easel being very solid once assembled.  The wood used was ash, and the finish was shellac.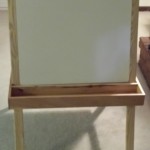 This was a fun project to make, and with the deadline for this build being Dec 9th, there is still plenty of time for you to make one as well!